PGDM Approved by AICTE, Accredited by NBA and Granted Equivalence to MBA by AIU | Applications Open for 2024-26 (29th) Batch | Click to Apply
The Top MBA Colleges in Delhi with affordable fees: A Comprehensive Guide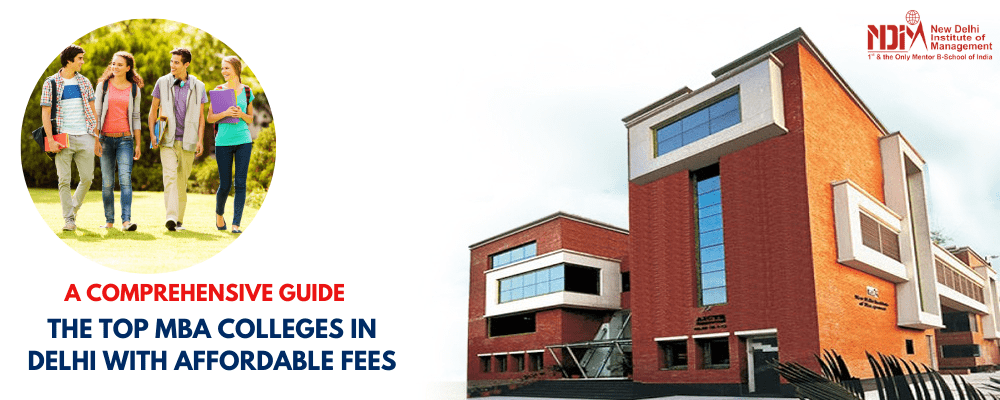 Choosing the Top MBA colleges in Delhi is an important decision for ambitious management aspirants. Delhi, being a major and prominent educational hub, offers abundant options for pursuing MBA programs. 
Selecting the appropriate MBA college in Delhi requires careful evaluation of various factors such as college infrastructure, specializations offered, accreditations, faculty team, facilities and amenities, industry connections, internships and placement opportunities, and affordability. By conducting detailed research and evaluating these aspects, aspiring management students can make an informed decision that provides them with a solid foundation for management studies and aligns with their career aspirations.
In this article, we will explore key considerations for choosing the Top MBA college in Delhi and a few esteemed MBA colleges in Delhi, which not only provide quality education but also offer affordable fees to students.
Our research focuses on identifying the key elements to keep in mind when selecting an MBA college in Delhi, which is affordable, offers an impressive education, and does not compromise students' careers. It will provide you with valuable insights that help decision-making by carefully examining the following aspects:
*Varied Specializations and Courses:
Before finalizing a management college, First and foremost, aspiring students should consider their future career goals and opt for an institution that provides the desired specialization to excel in their chosen fields. Students should conduct thorough research on the college curriculum and its teaching methodologies to ensure that they align with their academic aspirations and professional goals.
*Accreditation and Rankings:
Aspiring students should look for MBA colleges that are accredited by recognized bodies such as AICTE (All India Council for Technical Education) or UGC (University Grants Commission). 
*Faculty and Industry Experience:
The educator's team of any college plays a pivotal role in delivering quality education and transforming students' lives. Faculty members with relevant industry experience bring valuable insights and practical knowledge into the classroom, elevating the learning experience for students.
Application Invited for MBA 2024 at NDIM – New Delhi Institute of Management through MAT/CAT Apply Now
*Infrastructure and Course Resources:
Aspiring Students should take a close look at the infrastructure and resources offered by the colleges. Factors such as spacious classrooms, modern libraries, fully-equipped computer labs, and access to online databases and journals should be carefully examined while taking a decision. Furthermore, facilities like dedicated sports areas, student clubs, halls, and recreational zones contribute to the holistic development of MBA students, giving them a well-rounded education experience.
*Industry Connections and Internship Opportunities:
A robust industry and alumni network are vital for practical exposure and future job prospects. Students should look for Colleges that have strong market reputations, and collaborations with corporates, and facilitate guest lectures, and industry visits. These valuable connections and opportunities increase the chances of securing internships and final placements with renowned companies. An active alumni network can provide valuable guidance, and networking opportunities for future career growth.
*Placement Records and Alumni Network:
The college's reputation and strong industry hold, guarantee great placements for its students. Students should conduct thorough research on the institution's reputation and their previous year's placement records to make a calculative choice.
*Affordability and Financial Assistance:
Pursuing an MBA is an investment in one's future, and its financial considerations are critical. Look for colleges that offer affordable options without compromising on the quality of education.
Now, let's shift our attention to some well-known Delhi institutions. These colleges prioritize providing an ideal learning experience, outstanding industry exposure, and placement support to their students. By reviewing the features and strengths of these renowned colleges, aspiring MBA students can make an informed decision to pursue a successful management career without compromising on financial aspects. 
When comparing three MBA colleges—NDIM Delhi, FOSTIMA, and JIMS—it is evident that NDIM stands out as a superior choice. Here are some factors highlighting NADIM's advantages:
Academic Excellence: NDIM Delhi has a reputation for providing top-notch education and has consistently ranked among the best business schools in India. The college curriculum is very well-designed, as per current business scenarios. Their carefully crafted curriculum, experienced faculty, and industry-relevant course offerings ensure a strong academic foundation and align well with industry requirements. The nurturing atmosphere at NDIM, experienced and supportive faculty, and individualized attention create an ideal setting for students to learn and excel. 
NDIM faculty team is a remarkable group of individuals who plays a crucial role in shaping the future of aspiring business leaders, by imparting valuable knowledge to help students reach their full potential and excel in their management careers. Their rigorous curriculum and experienced faculty members are the two strong pillars of NDIM College.
Affordable Fee Structure: NDIM offers a cost-effective MBA program without compromising on its quality of education. The institute believes in providing value for money to its students. NDIM offers a strong ROI (return on investment) making it a preferred choice for students seeking quality education without much financial burden.
Industry Exposure: NDIM places significant emphasis on providing students with exposure to the corporate world. The college surpasses expectations in offering abundant career insights through the organization of workshops, and industry visits showcasing influential leaders and accomplished alumni enabling students to gain practical insights and develop industry-relevant skills.
The International Immersion Program: The college offers a unique program, the program provides students with the opportunity to gain international exposure and experience. The International Immersion Program allows students to travel to foreign countries, where they can study, engage with diverse cultures and gain a better understanding of the world, learn to adapt to different cultures and develop the necessary skills for doing work internationally. 
Placement Support & Alumni Network: NDIM boasts an impressive track record of placements. The college has strong connections with renowned companies and organizations, leading to a high placement percentage. The proficient team; CRC (Corporate Resource Centre) at NDIM assists students in securing internships and job placements at esteemed companies. NDIM provides great support to students conducting mock interviews, and resume-building workshops. NDIM has a strong and influential alumni network, comprising successful professionals across various industries. The alumni network offers valuable networking and mentoring opportunities to its students, securing their future.
Corporate Mentorship Program: NDIM assigns each student a mentor from the industry itself, under their corporate mentorship program, who becomes the students' trusted coach and works on their holistic development. This platform helps create an ecosystem for students to engage with successful leaders and professionals from the industry, who share valuable insights into the corporate culture and imparts new-age skills.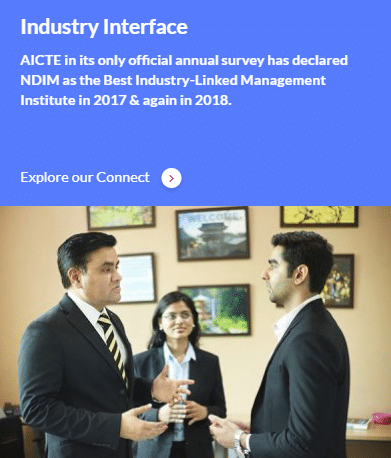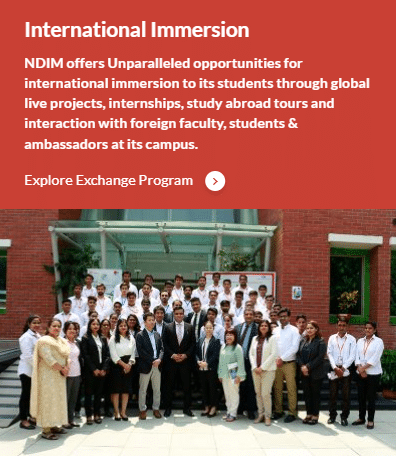 Infrastructure and facilities: NDIM's campus is equipped with state-of-the-art facilities, including well-fitted spacious classrooms, a modern and well-stocked library, recreational zones, and well-equipped computer labs, providing students with access to the latest technology and tools. The facilities at NDIM College are modern and are designed to provide a favourable learning environment and growth opportunities for students. 

While FOSTIMA and JIMS are also reputable institutions, NDIM's persistent focus on academic excellence, vigorous industry connections, outstanding placement support, well-placed alumni network, and remarkable infrastructure make it a standout choice among the MBA institutions named above. NDIM stands out as a distinctive institution due to its holistic teaching approach and its vision of crafting empathetic global leaders.
If you are looking for a world-class Business College in Delhi, NDIM is the best option for you. With its strong academic reputation, good placement record, and vibrant campus life, NDIM is sure to help you achieve your career goals.
NDIM, the Top MBA college in Delhi  has been instrumental in nurturing the dreams of numerous aspiring managers and propelling their ascent up the corporate ladder.
With industry stalwarts leading our Board and guiding students' education, NDIM stands as the Top PGDM college in Delhi, making it the ideal choice for those seeking a rewarding career in project management.
To know more, visit our website at https://www.ndimdelhi.org/.
@ NDIM Classroom