PGDM Approved by AICTE, Accredited by NBA and Granted Equivalence to MBA by AIU
Best MBA college in Delhi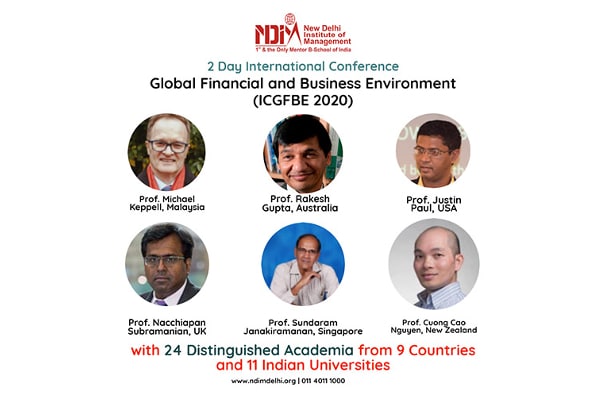 24 Distinguished Academia from 9 Countries and 11 Indian Universities at NDIM's 2 Day Finance Conference on Global Financial and Business Environment (ICGFBE 2020)
Being declared the 1st and the ONLY MENTOR B-school of India for 3 years by the Govt. of India (AICTE) & CII, we connect top recruiters with young students and academia on a regular basis across the country to improve Student Employability.
NDIM has been declared the 1st and the ONLY MENTOR MBA-school of India for 3 years by the Govt. of India (AICTE) & CII after a nationwide survey of 10000+ institutions of higher learning in 2017, 2018, 2019.
New Delhi Institute of Management
New Delhi Institute of Management is a unit of "Society for Employment and Career Counselling" and is an integral part of this non-profit & charitable education society registered since 1992. Chairman of New Delhi Institute of Management Dr. Vishwa Mohan Bansal is also the President of the Society for Employment and Career Counselling.
Led by a freedom fighter and senior most member of the UPSC, Jaswant Rai Bansal; distinguished Judges of the Supreme Court of India, Deputy Governor of the Reserve Bank, Chairman of the UPSC, and top civil servant of India set up NDIM, after their distinguished achievements in public life, as a humble pay back to the nation taking their decades of learning to the next generation.
These highly acclaimed leaders, known for their immense knowledge, vast global connect and unparalleled learning, who have been the role models in different spheres for over 50 years laid the foundations of NDIM with the vision of raising the bar of Indian education to match with the global standards.
Vision: NDIM was founded with the Vision of being a global learning hub, a unique gurukul to nurture courageous global change leaders through holistic, transformative and innovative learning.
Mission of NDIM:
To establish linkages with Global Academicians and Industry.
To provide personalized attention and a highly interactive teaching & learning process.
To nurture effective decision makers and leaders with global outlook and conviction to venture into the unknown.
To create appropriate environment that promotes acquisition of relevant knowledge, skills and attitude necessary for adapting to fast changing & dynamic business environments across borders.
To provide necessary ecosystem for encouraging nascent ideas and supporting their spirit of venturing into new initiatives, startups, entrepreneurial endeavours.
To create socially and environmentally sensitive ethical business leaders.
To provide equal opportunities to all irrespective of caste, creed and gender.
Programme Educational Objectives
Ability to solve Business Problems in a National/Global context using latest managerial techniques and supporting tools.
Behave in a Socially responsible, ethical and value driven manner.
Ability to manage business relationships with effective communication and corporate skills.
A positive & open-minded individual, capable of life-long learning, leading and guiding teams.
To critically analyze business situations, formulate strategies and take effective informed decisions and thereby manage the business processes.
Program Outcomes (POs)
Apply knowledge of management theories and practices to solve business problems.
Foster Analytical and critical thinking abilities for data-based decision making.
Ability to develop Value based Leadership ability.
Ability to understand, analyze and communicate global, economic, legal, and ethical aspects of business.
Ability to lead themselves and others in the achievement of organizational goals, contributing effectively to a team environment.
Ability to generate ideas and transform these into startups/entrepreneurial endeavours.
Ability to generate solutions to new problems using research, creativity and innovative mind set.
Ability to design policies, strategies and programs by analyzing the relevant internal and external forces and their business impact.
India's premier B-School New Delhi Institute of Management has been consistently ranked among the best MBA college in India by the AIMA, IMRB, Business World, Business Standard, Business India, DNA Group of Newspapers and the KPMG. It is approved by the AICTE, Govt. of India, since 1996 and declared MBA equivalent, both by the Association of Indian Universities and the AICTE, since 2008.
Over the years, more than 1000 companies of repute have recruited at NDIM and given 100% finest placements year on year basis with more than 250 companies recruiting at its campus every year for the past 5 years. Business India has consistently rated NDIM in the highest A+++ category, while KPMG has ranked NDIM among the fastest growing MBA-schools of Asia.
Full time faculty of NDIM is highly rated and is drawn from 201 industries & corporate houses and 19 international universities. The faculty continues to teach at European universities and is on the boards of several multinational companies, a rare distinction for any academia. The faculty designs and conducts trainings and consultancies for top professionals of the corporate world and for Government of India and is being regularly invited to train the families of India's civil servants, staff of India's Parliament and State Assemblies including senior commandants of the para military forces.
Unlike most other PGDMs and MBA programmes, PGDM at NDIM is unique as the students graduate with 'Dual Specialization' rather than 1 major and 1 minor specialization as in most other b-schools. Students pick up 2 Major Specializations out of HR, Marketing, Finance, IT & Systems, Media Marketing & Communication, Logistics-Supply Chain Management & Operations and International Business. MBA with two Specializations multiplies the career opportunities and opens up wider options.
NDIM's PGDM is known for its 'Case Based Learning' and 'Skill Based Curriculum' which is regularly fine-tuned to changing global requirements by 93 recruiters across different sectors of industry, who constitute its 'Academic Advisory Council'.
NDIM is a sought after MBA school because of its strong "Industry Interface" for which it has been rated at first place in India and bracketed with IIM(K) and MDI. The high 'Industry Interface' has facilitated longest hours of 'Continuous Corporate Connect' for every student which prepares them to global expectations. Taking advantage of its industry connect, every first year student of NDIM has worked on minimum two 'live projects' at recruiters' premises as NDIM was offered 717 'live projects' with top Indian companies during the last 12 months in addition to 8 weeks of 'Summer Internship' for all the students with blue chip companies. Strong Industry connect of NDIM has ensured continuous grooming for leadership and strategic positions under the unique 'Corporate Mentorship Programme' which is driven by 248 senior industry professionals over a continuous period of 12 months for all the students. Additionally every student works on a major industry project of 14 weeks as part of their PGDM-MBA program.
NDIM has emerged as a hub for national and international CEOs, Presidents and CMDs. 915 senior industry professionals visited the NDIM campus during the last one year including Mr. Sunil Bharti Mittal (Founder & Chairman, Bharti Enterprises); Mr. Analjit Singh (Founder &Chairman, Max India); Dr. Arvind Lal (CMD, Lal Path Labs); Mr. Suresh Kumar (CEO, ITC Fortune Group); Mr. Sunil Duggal (CEO Dabur); Mr. C P Gurnani, MD, Tech Mahindra; Mr. U K Sinha, Chairman, SEBI; Mr. Adesh Gupta, (CEO, Liberty Group); Mr. Amitabh Vardhan, (MD, Cine Grand); Mr. Brijesh Agrawal, (co-founder, IndiaMart); Mr. Harish Natrajan, (CEO, Bausch n lomb); Mr. KL Chugh, (Chairman Emeritus, ITC); Mr. Pankaj Bansal, (CEO, Peoplestrong); Mr. Praveen Sinha, (Founder, Jabong); Mr. Rajat Iyer, (CEO, Saarthak); Mr. Sandeep Kaityar, (CEO, Century 21); Mr. Shyam Saran, (Chairman, RIS); Mr. Vineet Hukamni, (MD, Radio One) to name a few.
In addition to 717 projects in India, NDIM offered 120 international projects in 15 countries to its 1st year students in the last 2 years with free boarding & lodging. NDIM is perhaps the only MBA School to be offering such a large number of international projects, courtesy it's highly distinguished board of directors.
Corporate connect of NDIM students is further strengthened with their regular one to one interaction with the industry captains at the platforms of FICCI, CII, ASSOCHAM, PHDCII and several TV channels where they are invited on continual basis. This direct interaction with industry stalwarts at the biggest business chambers opens up students' personality in a big way and puts NDIM students on a higher platform. NDIM students participated at 83 such high business platforms during the last one year.
NDIM was set up in 1992, not as a business venture but as a humble pay back to the nation, by former bureaucrat & freedom fighter, J.R Bansal (former- Member UPSC, Chairman – PPSC and NABARD & STC Selection Boards); Dr. M.L Shahare (former Chairman UPSC); R.K Kaul, IAS (former Deputy Governor RBI), and Justice RS Sarkaria (former Judge Supreme Court, Chairman Sarkaria Commission & Press Council of India). Currently, NDIM is steered by global leaders of eminence to ensure international standards in curriculum, faculty, teaching pedagogy, industry connect and placements.